FoxCreek Family Tennis Center provides indoor tennis play, instruction and all tennis services for its members. If you are looking for private lessons, a clinic, want to join a league, we offer it here for our juniors and adults. We also offer non-member pricing!
Call the club for information today! 440-282-8366
FAMILY TENNIS CENTER
The home of the George Gamel Tennis Academy, starting Jan 1st 2014
Please take a few minutes to Register on our Tennis Website!
Registered members of the Fox Creek website will receive emails about upcoming events and programs.
Please note: to contact us send messages via the contact us tab. However, unless you register, you will not receive event and program information.
Junior Thanksgiving Clinics
Junior Thanksgiving Clinics Wednesday November 27th!
1st-8th Graders Clinic Cost: $24
11:00am-1:00pm
Advanced/High School Clinic Cost: $24
1:30-3:30pm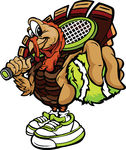 George Gamel Tennis Academy at FoxCreek!
Our new Tennis Director from Virginia Beach/Tidewater area. George will join us for our welcome kickoff party to start the new year and The George Gamel Tennis Academy at FoxCreek the first weekend in January. Details to follow soon!
George's Bio: 30+ years teaching experience. Certified USPTA, PTR, & USNTA Professional
Has coached many nationally ranked junior players & many juniors who went on to play college tennis at all levels.
Has coached adults & USTA teams that have qualified for the national level.
Former #1 Player Ghana. Has played professionally in Europe, Africa, and the USA. Former #1 Player Cooke County College, Texas
The new programming will be out very soon!
Pro Shop News:
The new line of Solinco racquets have arrived! Come in and demo a racquet!
Break a String?
Let our racquet technicians take care of your string problems.
Call the club to set up an appointment today.
Interested in private lessons?
Whether you are a total beginner or a competitive player wanting to work on specific skills...we have to pros to meet your needs!
Give us a call today!
440-282-8366
FOXCREEK FAMILY TENNIS CENTER WINTER JUNIOR OPEN
USTA Sanctioned Tournament ID# 850060613
Friday November 22nd- Sunday November 24th
Boys Singles 18 & Under, 16 & Under, 14 & Under, 12 & Under
Girls Singles 18 & Under, 16 & Under, 14 & Under, 12 & Under
All matches will be 2 out of 3 sets with a 3rd set super tie breaker. First match loser consolation
Deadline to register is Wednsday November 20th, 11:59pm
Contact Tournament Director, Billy Levi with any questions. 440-282-8366 or 440-522-5610
New!!!
Co-Ed Drill with Billy Levi
Wednesday Nights
6:30-8pm
Fast paced tennis drill for men and women, 3.0-3.5 players. $24 includes free drink at the bar